Aria Automation Config and Salt Project – Leader in Configuration Management
When SaltStack was founded in 2011, it was built to be a pioneer in intelligent, event-driven configuration automation that controls and secures IT infrastructure and is still doing that today. Salt Project, as it is now called, still solves for what other open-source solutions are lacking: a need for high-speed configuration and security management at massive scale.
Here's a brief timeline of how SaltStack, now Salt Project, has evolved through the years from when it was founded to VMware acquisition and beyond.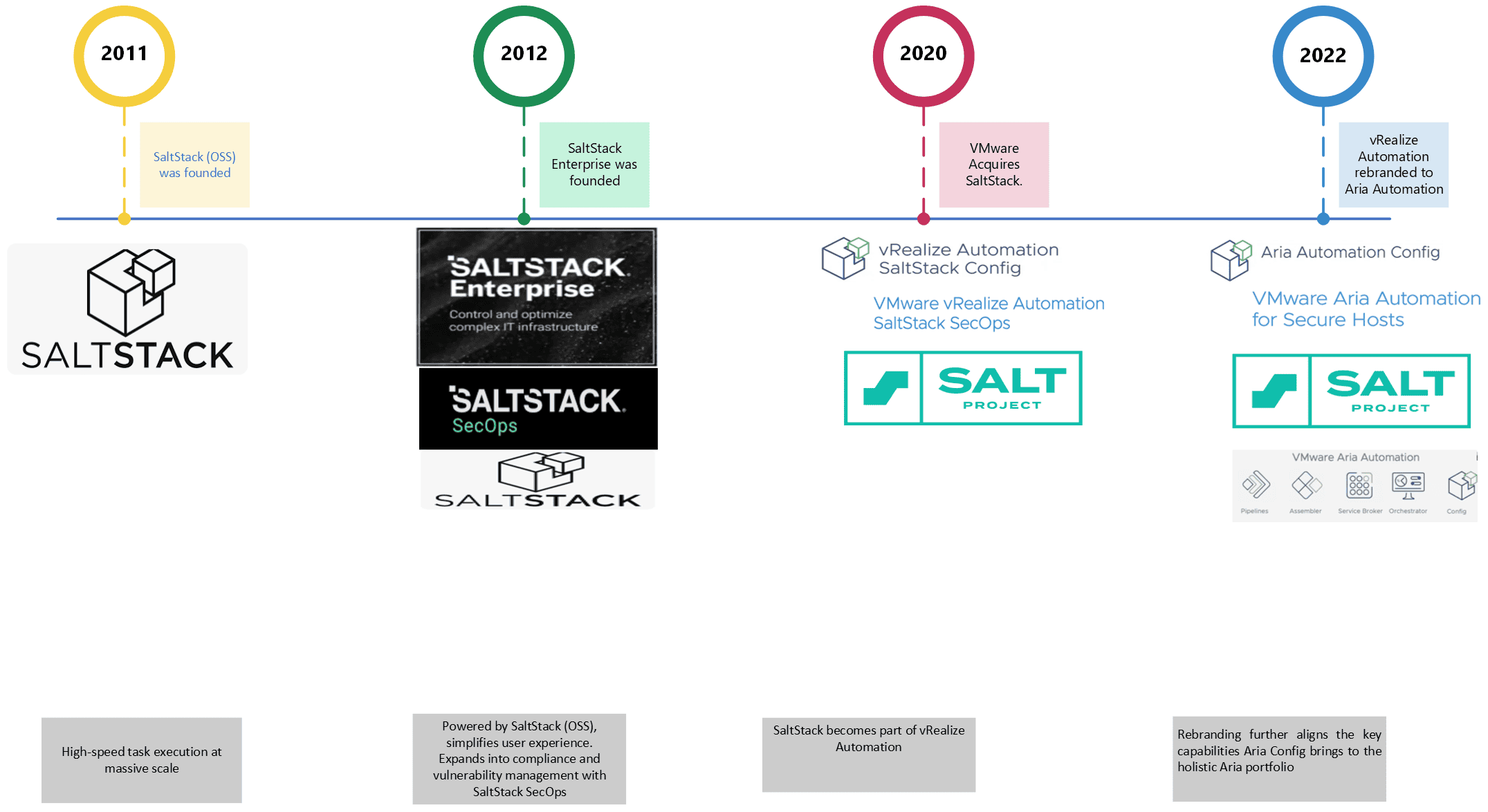 Why customers love Salt in Aria Automation Config?
Here are some of the ways Aria Automation Config powered by Salt has become a market leader in configuration management:
VMware Aria Automation for Secure Hosts enables security and operations teams to define a corporate IT security policy, scan systems against it, detect vulnerabilities and non-compliance issues, and actively remediate them—all from a single platform.
Event Driven automation is in Salt's DNA unlike the competitors that treat events as an add-on.
Salt is designed for high-performance and scalability. Salt employs distributed messaging system with remote execution that gives considerable performance advantages over competing solutions. And all this power is the core of Aria Automation Config.
Salt Project is used to manage large data centers (one of our strongest niches), device management, hardware management and IoT management.
Salt not only provides configuration management but also automation, infrastructure management, event-driven orchestration, remote execution and so much more!
After VMware Acquisition
Since the acquisition, Aria Automation Config and Salt Project continue to bring to market valuable capabilities to our customers. The Salt Team has been busy innovating, expanding, and supporting open-source projects.
Here are some key achievements:
Over the last two years, the increase in community adoption and contributions to the Salt Project has been significant. OpenLogic's State of Open Source report for 2022 showcased impressive Salt adoption growth. In 2020, just 7% of companies surveyed used Salt. As of March 2023, more than 22% of companies report their Salt adoption.
New Salt Project extension releases – With salt analytics, forward analytics information to any external systems to monitor salt infrastructure. Gain faster day 2 action with salt heist for agentless support and salt describe to automatically create desired state files.
VMware Aria Automation for Secure Hosts provides continuous compliance enforcement though security content based on Center of Internet Security (CIS) and Security Technical Implementation Guides (STIGs) frameworks. The OS support for CIS benchmark recently added are Windows 2022, Windows 2019 and RHEL9.
Aria Automation Config powered by Salt integrated with Aria Automation provides Day0/Day2 action to achieve an end-end infrastructure automation solution.
Salt is Everywhere
The reason why Salt Project is the leader in configuration management is simple.
Salt provides a unified scalable solution for event-driven configuration management, orchestration, monitoring, security VS competitors that needs multiple complex integrations to even come closer to achieving the same outcome.
Through customer interactions and community contributions, we strive to discover opportunities to identify the most critical/impactful problems to solve; coupled with disruptive innovations, we provide solutions at scale to drive those outcomes.
The result is the Salt Project testimonials through customer/partner blogs and open-source mentions that drives business outcomes with value:
"The new Salt architecture supports the execution of more than 15,000 remote jobs across all of LinkedIn's fleet of hundreds of thousands of servers every day with more reliability and scalability than ever before." - Linkedin Engineering article
"Salt Project community helped adoption of Salt for our projects of such a large code base. We kept salt only for remote execution over API's because that was something which was missing from other tools." – LinkedIn Webinar
"In Salt Project, speed isn't a byproduct, it is a design goal." - Behavox
"Salt is consistently improving thanks to industry-wide collaboration. That means the best of the best are contributing to the project over and over again." - EITR
"The Linux Foundation showcases Salt Project." - Open Source Maintainers
Future outlook?
It is a fantastic time to be at VMware as we look forward to the opportunities with Broadcom for Aria Automation Config and Salt Project. We look to solve for current and future multipurpose use cases, partnering with customers/partners with continued support from VMware.
Customers already see value in using Salt to manage OS workloads today. As VMware continues to invest in VMware Cloud, Salt Project will be anchored as an integral part to increase operational efficiencies and support customers in digital transformations.
Broadcom's physical layer with multi cloud strategy brings opportunities for Salt to provide world class security through Secure Host accelerating app delivery and innovations for customers.
Some cool sneak peeks into what's coming:
Salt Project "THING" - We're excited to tell you about the Salt Project THING, a one-day virtual, event coming this fall. This event will be 100% free to attend! Stay tuned for more announcements in the Salt Project Blog!
Salt Project in VMware Release Notes - Look no further. Salt Project Key Release Highlights will be featured in VMware Aria Automation Release Notes. Aria Automation Config is powered by Salt Project, and we want to ensure our customers are aware of the new Salt capabilities in addition to what is available with Aria Automation Config.
If you would like to get started using Salt, and learn more about the Salt Project community, go to: http://www.saltproject.io.